This duplex was sold in 2 weeks. Two lovely single story European inspired homes had just come onto the market in the highly coveted Norma Triangle of West Hollywood. It sold 30% over the asking price of $1,375,000. Zoned as a duplex, the renovated, stylish bungalows were located in the heart of WEHO. Situated on a particularly quiet street, they are literally just steps away from the areas considerable shopping, nightlife and dining. Gated for privacy and completely enclosed by paved brick courtyards and gardens, brilliantly colored Bouganvillea, fragrant jasmine, passion flowers and roses surround both houses. Hummingbirds and butterflies grace the property year round. Click on the image below and the page will take you to the interactive virtual tour and you to walk through the property.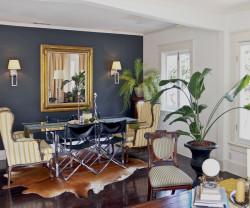 Both bungalows featured French windows and double doors to allow for ample natural light from dawn to dusk.
In the evening, the gardens glow incandescent with lanterns suspended from blooming vines. Each bungalow had its own separate entrance and private parking spot on the property. The front two bedroom house had hardwood and travertine floors. A large living room adjoined the dining room. French doors secreted a hallway off the main living space to an updated bathroom and separates the bedrooms. The Master Bedroom opened through double doors to one of the properties courtyard Gardens. The kitchen, which completely closed off from the dining / living space, features a large granite center island and ample cabinetry – making it the perfect space to prepare meals for family and friends. The separately metered one bedroom back guesthouse was perfectly appointed with hardwood and brick floors, a proper living room, full kitchen, breakfast nook and a newly renovated full bath. It was vacant. Truly a Norma Triangle gem!